Prix spécial
14,99 €
Prix normal
59,99 €
Buy Ashampoo WinOptimizer 26 now! 
About the privacy intrusion built into Windows and euphemistically dubbed "telemetry". WinOptimizer 26 puts a stop to this, fast, easy and effectively! It whips your PC back into shape and makes it feel like new again. Let WinOptimizer clean, optimize and protect your machine and enjoy a fast, lean and secure Windows PC with intact privacy, permanently!
You will receive your code to redeem in your account within minutes by eMail. In order not to miss out the mail, please check the spam or junk mail folder too!
How to download: Download Link
For permanent use, sub-versions are updated for free. (v26.x) In addition, only the update of this version can be used, and other versions cannot be activated. If you previously purchased Ashampoo WinOptimizer 25, you can download it by clicking this link: Ashampoo WinOptimizer 25.
Speed up, optimize, and clean your PC with great ease!
Windows is great–but there's always room for improvement. That's where Ashampoo WinOptimizer 26 comes in! Because, over time, operating systems tend to slow down, become unstable and clutter up. Important settings are also either missing or hidden deep within the system. And then there's the constant privacy intrusion built into Windows and euphemistically dubbed "telemetry". WinOptimizer 26 puts a stop to this, fast, easy and effectively! It whips your PC back into shape and makes it feel like new again. Let WinOptimizer clean, optimize and protect your machine and enjoy a fast, lean and secure Windows PC with intact privacy, permanently!
Find and delete sensitive data with Privacy Traces Cleaner
Individually tailored Windows optimization with Tuning Assistant
One-click optimization with four powerful cleaners
System analysis with more in-depth information and visual clarity
Super-fast cleaners with new search algorithms
Windows Notification Center based program notifications
Drive Cleaner with custom file filters
Improved browser handling in Internet Cleaner
Cleaners with support for browser profiles
Uninstall Windows apps with UnInstall Manager 2
UnInstall Manager 2 with new look & feel
Process manager with tree view
Review SVHOST-based processes
Create and print modern-looking reports
SSD wizard with new handling and more details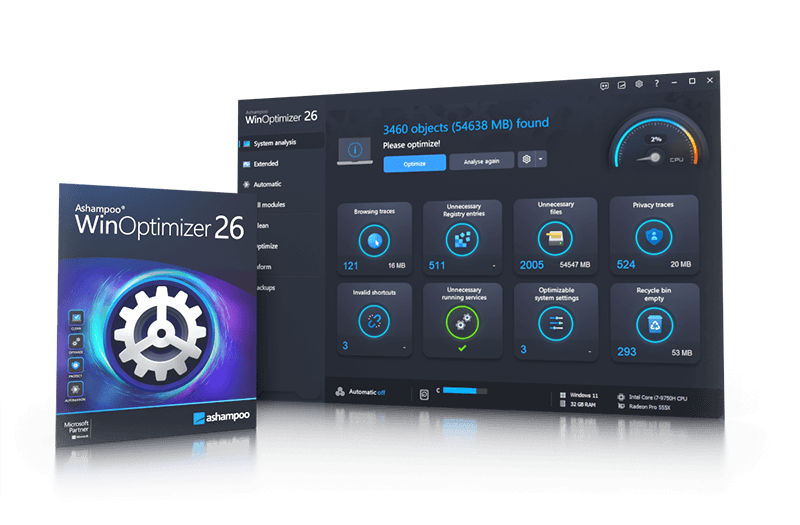 Next-level cleaning
Advanced deep cleaning: Hunt down data clutter, enhance privacy, and resolve display issues!
The search for junk files enters a new phase with the extended in-depth cleaning, and privacy and display issues can now be easily fixed! Get rid of old versions of Windows, backups of Windows updates, and usage statistics for Windows. Fix show issues in your games by purging the DirectX shader store, and accelerate your sluggish Windows Pioneer by clearing the see reserve. In the process, you'll also free up a lot of space on your hard drive.
Best-in-class multi-browser cookie management
Enhance Your privacy with Innovative cross-browser cookie management: Take control of your online privacy
Despite their convenience and usefulness, internet cookies have recently become a privacy nightmare. The inventive treat supervisor will assist you with securely dealing with your treats across your programs in general! Keep login sessions intact while removing cookies that violate your privacy to separate the wheat from the chaff. Your settings will be applied to all of your browsers and can be exported and imported for easy device transfer. Use wildcard characters to instantly mark entire domains as safe.
First-rate but second-row features
Over 30 Top-notch modules for every purpose - Beyond cleaners and optimization
WinOptimizer offers modules in addition to cleaners and optimizers that other businesses would rather sell separately. This includes Privacy Manager for improved privacy protection and Process Manager for a better look at what is running on your PC. Icon Saver and File Wiper join these to help you organize your desktop and permanently delete sensitive data. Over thirty cutting-edge tools cover the entire range of system cleaning, tuning, and optimization in WinOptimizer!
Next-gen privacy protection with Privacy Traces Cleaner
Find and delete sensitive data
Whether you use Windows apps, games, or office suites, all applications leave behind traces that may compromise your privacy (and security). Privacy Traces Cleaner features specially designed search algorithms that scan files, folders, and the Windows Registry for such traces and eliminate them–after your review and confirmation, of course! There's a built-in Registry backup feature for added safety, whitelisting for individual exceptions, and multi-user support so you can clean all user profiles in one go.
See what's happening on your machine
Essential information neatly arranged right off the bat
The newly designed system analysis tells you everything you need to know at a glance. Aside from the CPU load speedometer, you now also get a first-hand look at disk usage and privacy-related information, courtesy of our new Privacy Traces Cleaner! Increase the size of the program window for even more valuable system details, like number of irrelevant files, services, and Registry entries, or the amount of potentially reclaimable disk space. The system analysis will tell you what you need to know!
More tuning through dialog
Effortlessly optimize your windows with the Tuning Assistant - Unleash maximum performance and privacy!
Windows auto-optimization has been an integral part of WinOptimizer for the longest time. Time to take care of the rest! The Tuning Assistant will ask you few simple questions with far-reaching consequences. Each response will bring you closer to a faster, more discreet, and more secure Windows machine–all while having a casual conversation with our software. Disable unnecessary background services, optimize security settings, and customize Windows for better performance and privacy, risk-free!
Windows Notification Center integration
Native notifications with essential details even when the program is minimized
Ashampoo WinOptimizer 26 makes full use of the system-wide Windows Notification Center to provide you with valuable updates. You will be notified when time-consuming analyses are complete, even when the program is minimized. Let One Click Optimizer, File Wiper, Disk Doctor and others do their jobs in the background while you're doing something else. You'll be notified as soon as they're done, no more need to watch the progress bars. Naturally, time and frequency of the notifications is fully customizable.
New cleaners with more power and efficiency
Four-way cleaning of unnecessary files
Our popular cleaners now includes Privacy Traces Cleaner for four-way cleaning action! Junk files, web browsing traces, invalid Registry items, and now privacy-sensitive data are now on the chopping block! Whether Drive Cleaner or Internet Cleaner, results appear almost instantaneously and detection rates are off the charts, while custom file filters help you to adjust and extend the range of supported file types. Naturally, our cleaners are meticulously tailored to all modern Windows versions and browsers.
New features in manager modules
Cleaner uninstalls and more information when it matters!
UnInstall Manager 2 now also processes, and uninstalls, Windows apps. A new look & feel, smart filters, and additional helpers make removing applications even easier and safer. Process Manager features a new and optional tree structure view for better clarity and also displays SVHOST-based processes. SSD Wizard provides additional info that helps to prolong the lifespan of your drives and to enhance their performance. Finally, reports across the modules now feature a modern design that greatly enhances their utility!
Please note:
Regarding the Ashampoo series products, if you want to replace the computer, you must first reset it yourself before deleting and uninstalling the software. After uninstalling directly, you cannot use it again. Reset method: Open the software and click the menu: My Ashampoo–>Authorization Status–>Manually enter the registration code–>Reset Authorization Status–>Next. 
Follow the steps above to reset the registration code.
Rédigez votre propre commentaire