Prix spécial
20,37 €
Prix normal
193,53 €
Buy Ashampoo Snap 15 Key.
This product includes one Ashampoo Snap 15 key. The key will be sent by email after purchase within minutes. Please check the spam or junk mail folder too.
Download Link:  Ashampoo Snap 15
More information about download and installation you can find in the description below or in the delivery email.
Ashampoo Snap 15 is a robust and all-inclusive screen capture program which makes it simple to capture screenshots, record videos, and modify them. It lets you make your customize video tutorials, video-capture your webcam, streams and video games.  Additionally, numerous functionalities can be accessible using a capture panel which is position on the top parts of the display. It is a full-featured software that provides a variety of cutting-edge features and utilities that enable you to produce better photographs and videos. This fantastic application can also save photographs and videos to a secure cloud storage service enabling you to retrieve your videos at any time. It has a simple and intuitive interface.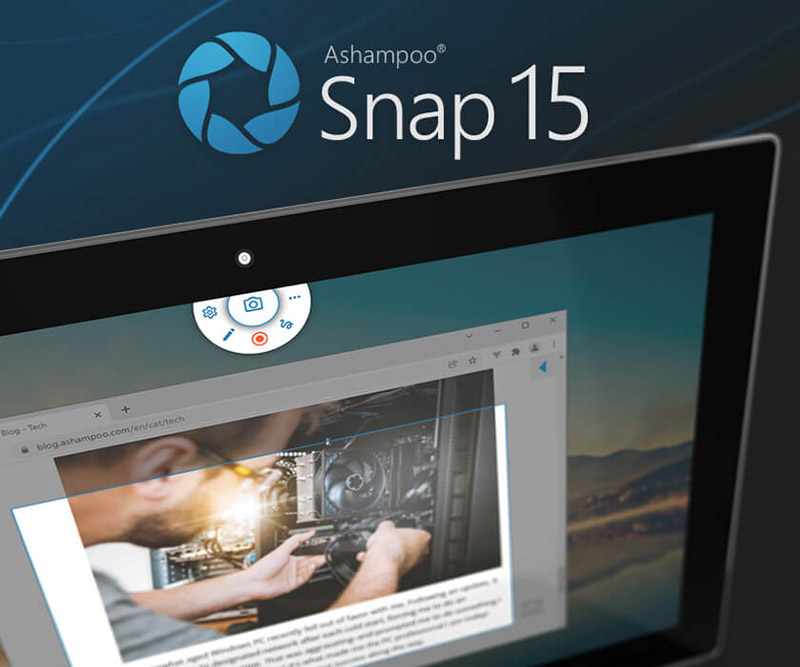 Features:
Save time and screen-capture information instantly
Capturing screenshots or videos with Ashampoo Snap 15 almost feels like magic! Anything you see on your screen is dependably caught alongside various brilliant settings. File management and post-processing are handled by the integrated editor. Additionally, Snap provides a number of tools for making your screenshots more meaningful: You can visually and stylishly tell your story with the help of auto-numbering, comments, shapes, clipart, and other features! Snap 15 has the tools you need to work from home, quickly explain a procedure, or plan to create an entire tutorial!
A winning concept
It is difficult to strike a balance between simplicity and utility. After all, what good is software that is so simple to use that it only has a few basic features? The new image editor from Snap manages to keep the powerful feature set that makes up our Snap line of products while also remaining simple to use. You can achieve your objectives without having to worry about mouse acrobatics or distractions thanks to optimized workflows and favorites that make it easy to access features. Even if you have never used Snap before, you will soon be productive. Transform a thousand words into a single image by visualizing and communicating your thoughts and ideas in a stylish manner!
Indispensable home office companion
To add screenshots and videos to your work in your home office, Ashampoo Snap is the ideal tool. Snap makes communication faster, more effective, and more meaningful, whether it's frontline or in-house. A more visual approach is advantageous for discussions, explanations, and proposals all at once. There's a reason "show, don't tell" is said! Annotate, clipart, and effects can help you convey the message and capture anything you see on your screen. Video catching, altering and sharing is additionally completely upheld. Ashampoo Snap is the tool you need to take your communication to the next level! There is no steep learning curve or hardware requirement!
At home and in the office: Get to the point more quickly
Ashampoo Snap makes screen and video captures easier than ever before. Work faster, smarter, and be more productive with 1-click actions. Boost your creativity with versatile design options and benefit from the new streamlined image editor. Create screenshots and with pixel-precision quickly and accentuate your projects with annotations, arrows, shapes, and cliparts. Highlight issues or points of interest visually in your documents and ignite your readers' creativity with clever combinations of texts and images. You won't believe how quickly Ashampoo Snap will boost your productivity and become a fixture in our daily work!
Smart desktop capturing and sharing
Once active, Snap's magic eye auto-detects elements below your mouse pointer (browser windows, program menus, images, etc.) and offers instant 1-click capturing with pixel precision. But it doesn't stop there: Snap can also capture custom rectangular or freehand regions and even supports scrolling content! Naturally, the program supports all possible kinds of sharing options, including email and Ashampoo Webspace!
Optical character recognition (OCR) for your screenshots
The multi-lingual OCR built into Ashampoo Snap is particularly handy. It supports seven world languages and allows you to convert any image-based text into real computer-editable text at the click of a button. Stop manually copying text and digitize your documents today!
Fast and easy video cutting
Not every video recording is an instant success. Ads, extra steps or pauses are a frequent bother. The same applies to screen captures. Keep the important bits and get rid of the rest with Ashampoo Snap! Remove ads, glitches or superfluous scenes or split your video into individual episodes. It doesn't matter whether you're casually pointing and capturing, creating an extensive webinar or producing a high-quality presentation: With Ashampoo Snap, every video capture comes out a success!
Create videos for any purpose
Creating instructional videos or documentaries is a breeze with Ashampoo Snap. Recordings are live-annotable with texts, drawings and voice narration. Clear things up with visualized mouse clicks and key strokes and add watermarks to protect your intellectual property. Take it to the next level and add live feeds from your webcam in a single click. Here's your ticket to create engaging tutorials, prepare instructive webinars and to point the way to the things that matter most to you–literally!
Perfect for different screen resolutions and multi-display environments
Ashampoo Snap fully supports multi-display setups, even with different resolution and DPI combinations, e.g. mixed Full HD and 4K environments. Each display is captured at its individual resolution for maximum crispness and results are instantly editable. And once you're in the editor, it's smooth sailing for beginners and professionals alike!
Create GIFs from any video
What would the internet be without those charming GIF animations? But GIFs can also be used in tutorials or demonstrations to great effect. Ashampoo Snap can turn any video segment into GIFs. Just set the start and end positions, fire up the built-in converter and you're done!
More than a snipping tool: extensive comfort features
Ashampoo Snap does most of the heavy lifting for you. Automatic numbering or time-delayed captures will help you make the most of your shots. Freely annotate your captures with texts and drawings or use flood fills. Put the spotlight on individual portions, blur sensitive data and use the highlighter to direct attention in style!
Capture desktop contents and save videos or images from the internet
The Internet is brimming with fascinating images, texts and videos. Ashampoo Snap makes it easy to capture what you like! Save image and videos and edit them on the fly and to your liking! Anything you see on your screen, or hear through your sound card, Snap can capture!
Create screenshots quickly and with great flexibility
Capturing and editing screenshots is child's play with Ashampoo Snap. From entire desktops to small screen segments, scrolling web sites to single passages: Everything is only a single click away! Use time to your advantage and create time-delayed screenshots or capture contents with pixel precision. Ashampoo Snap is the screenshot program that does it all: intuitive handling + high-performance features!
Rédigez votre propre commentaire